Start planning for a future filled with security and peace of mind.
Duncaster offers a full array of healthcare services to help keep you at your very best. Multiple levels of high level, on-campus care, including assisted living, memory care, long-term care and rehabilitation are available—all at predictable costs, ensuring financial security. There are even advantageous tax and estate planning benefits available. You'll have peace of mind in the knowledge that if your health ever changes, you'll never pay the high cost of long-term care. So there's no need to worry about what the future may hold for both you, your loved one—and your family—when you plan for your future with Duncaster.
Call 860.380.5006 or request info to learn more.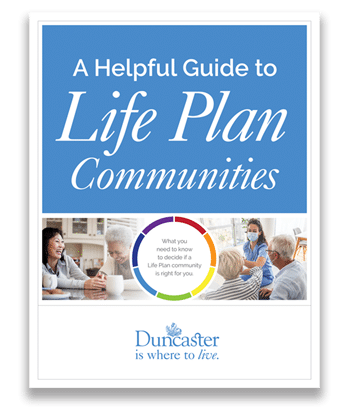 A Helpful Guide to Life Plan Communities
Download our FREE e-Book to see if a
Life Plan community is right for you.