Caleb Hitchcock Health Center Nationally Recognized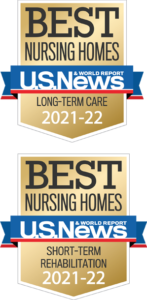 U.S. News & World Report, the global authority in health care rankings, recently released the 2021-22 list of Best Nursing Homes. Duncaster is proud to announce that our Caleb Hitchcock Health Center was again nationally recognized as a high-performing destination for those looking for the best in long-term care, and short-term rehabilitation.
"Duncaster is immensely proud of this accomplishment," said Kelly Papa, President and CEO. "To receive this ranking during an active pandemic is a true testament to the exceptional work of our dedicated caregivers."
The U.S. News & World Report rating includes data on staffing, success in preventing visits to the emergency room and pneumonia vaccination rates, among other metrics. Out of 13,175 nursing homes that received a Long-Term Care Rating, only 1,063 were chosen as High-Performing. The Short-Term Care Rating incorporates measures of quality including consistency of registered nurse staffing, use of antipsychotic drugs and success in preventing falls. This year, 13,500 facilities received a Short-Term Rating, while only 1,651 of these homes earned a High-Performing Rating.
The U.S. News & World Report website offers a Best Nursing Home Finder tool that includes nationwide ratings for both long-term care and short-term rehabilitation. It offers prospective residents' and their families an in-depth analysis of the quality of care provided by these nursing homes. This insight, alongside that of a physician, and visits to a community, can help individuals make the best choice.
If you or a loved one is looking for the finest in long term-care or short-term rehabilitation, Caleb Hitchcock Health Center should be at the top of your list. To learn more call Liz Rios, Director of Admissions, at (860) 726-2405.