Less must-do. More want-to. | February 2022
Family is family—and the whole family is welcome at Duncaster!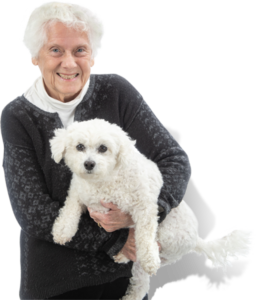 At Duncaster your four-legged friend is always welcome. Take it from Jane Springer and her dog Lily, "Lily is an important part of my life, and she loves all the attention she receives at Duncaster. She knows which staff have treats and she visits them often. We are part of a dog walking group and really enjoy the social outlet it provides."
Pets are a source of joy, companionship and comfort that can benefit older adults in many important ways—including by reducing symptoms of depression and feelings of loneliness. They can also help reduce stress, lower high blood pressure, increase social interaction, and boost physical activity. Pets provide other intangibles, too.
"Dogs and cats live in the present," says Dr. Jay P. Granat, a New Jersey-based psychotherapist. "They don't worry about tomorrow, which can sometimes be scary for an older person. An animal embodies a sense of here and now, and it tends to rub off on people."
The Pets for the Elderly Foundation collected research on the physiological and psychological impact of animals on seniors' quality of life. Here are just a few of the many proven benefits of owning a pet:
Heart Health: Frequent interaction with a pet can lower blood pressure and cholesterol, decreasing the risk of cardiovascular disease.
Improved Activity: Walking, grooming, or playing with a pet increases the frequency of physical activity and exercise, which in turn has countless health benefits.
Healthy Behavior: Those who own a pet tend to take better care of themselves. Caring for a pet helps to develop a routine, encouraging owners to eat regularly or complete chores and other tasks.
Increased Interaction: Walking a dog gets senior owners out of the house and increases their opportunities to socialize with neighbors.
Decreased Loneliness: Pets are a great source of affection and companionship.
Stress Relief: Being with a pet increases levels of serotonin, the "feel good" hormone that relieves stress. It also provides physical contact, which helps to calm anxiety.
If now is the right time for you and your four-legged friend to explore all that Duncaster has to offer, call Lisa Greene, Vice President of Sales and Marketing at (860) 846-4557 and schedule a tour today!